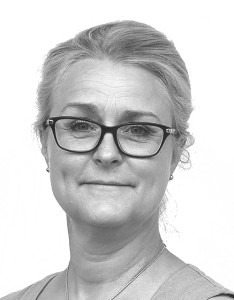 CV
2017 aug, Work Shop m. Natalie Holland
2016 Work Shop m. Monica Helgesen, portrett
2013 opptak i foreningen for uavhengige kunstnere
2010, aug, Work Shop m. Natalie Holland
2009, aug, Work Shop m. Natalie Holland, portrett
2009 Work Shop m. Per Lundgren
2008, Work Shop m. Per Lundgren, portrett
2008-09 Student hos Unni M. Lørdahl Rasmussen
2002-03, Student ved Høgskolen i Østfold, Kunst og håndverk 1,2 og 3, 90 stp, Halden
2000-01, Student ved Kunstskolen Merkantilt Institutt, Andøy
Naturvitenskap er et av grunnelementene i mine arbeider. Jeg er utdannet bioingeniør, og har sterke røtter innenfor den naturvitenskaplige sfære. Etterhvert har jeg funnet retningen min, og endte med en utdannelse i kunst og håndverk. Kontrasten mellom vitenskapen og kunsten, mellom konkret og abstrakt, mellom orden og kaos er et stadig tilbakevendende tema for meg.
Jeg er opptatt av at et liv skal fylles med både orden og kaos. Vi lever i et mangefoldig samfunn hvor vi daglig møter mennesker på tvers av kulturer og interesser, både i nærmiljøet og internasjonalt. Kontraster er en stor del av livet. Derfor synes jeg det er spennende å utforske samspillet mellom organiske former og strenge geometriske mønstre. Jeg ønsker å skape et uttrykk der de to møter hverandre og skaper en form for harmoni. Et orden i kaoset. Et kaos i ordnede former.
Kommunikasjon er et annet ilbakevendende tema i kunsten min. Begrepet «kommunikasjon» er et sammensatt begrep. Ikke bare involverer det mellommenneskelige relasjoner, men også en ide om å dekonstruere kommunikasjonen. Hvor enkelt kan du kommunisere noe uten å miste det grunnleggende budskapet du ønsker å formidle? Når mister budskapet sin mening? Hvordan kommuniserer vi gjennom sosiale medier? Hvor enkelt kan du gjøre noe, men fremdeles beholde den opprinnelige meningen?
Jeg ønsker at hver enkelt som betrakter mine malerier får hver sin opplevelse av det de ser. Kanskje ser du en dypere mening i et maleri. Kanskje synes du fargene er fine. Kanskje tenker du at maleriet vil stå godt til interiøret i stuen din. Jeg mener at kunstopplevelser alltid vil være individuelle. Alle kan finne en glede i kunst. Kanskje finner du en dypere mening mens du betrakter et verk, men kanskje er du også en av de som slår seg til ro med at det er noe fint å se på.

I believe that a life should be filled with both order and chaos; we live in a complex society where we daily encounter new people from various cultures and with a variety of experiences from near and far alike. Contrasts are a large part of life. I therefore find it interesting to explore the relationship between organic shapes and predefined geometrical patterns. I wish to create a space where the two meet and recreate harmony; functional chaos. A type of chaos that has a structure.
Natural Sciences and scientific phenomenon are also main elements in my work. My background is in biological engineering, and I have a strong connection to natural sciences and its sphere in general. As I have discovered my path, I have acquired a degree in Arts and Crafts.
The contrast between the concrete and the abstract, between order and chaos, is a reoccurring theme for me.
Another reoccurring theme in my art is communication. The word communication is a complex one. Not only does communication involve human relations, it engages the idea of deconstructing communication. Exactly how easily can one communicate without losing the essential message one wishes to convey? At what point does a message lose its meaning? How we communicat through social media? How basic can one present something and still keep the original idea? Through my work "Squares" and "Organic", I am thoroughly studying both communication and natural sciences.
I truly wish that each person who comes to see my paintings would leave with very personal and unique impressions from the show. Maybe you find a particularly profound meaning in a painting. Maybe you enjoy the colours. Perhaps you believe that a particular painting would go well in your parlour. I find that experiences related to art are always individual. Everyone can find joy from watching art; perhaps you are the one who discovers a deeper message while studying a piece, or maybe you are a person who is satisfied just because it is nice to look at.